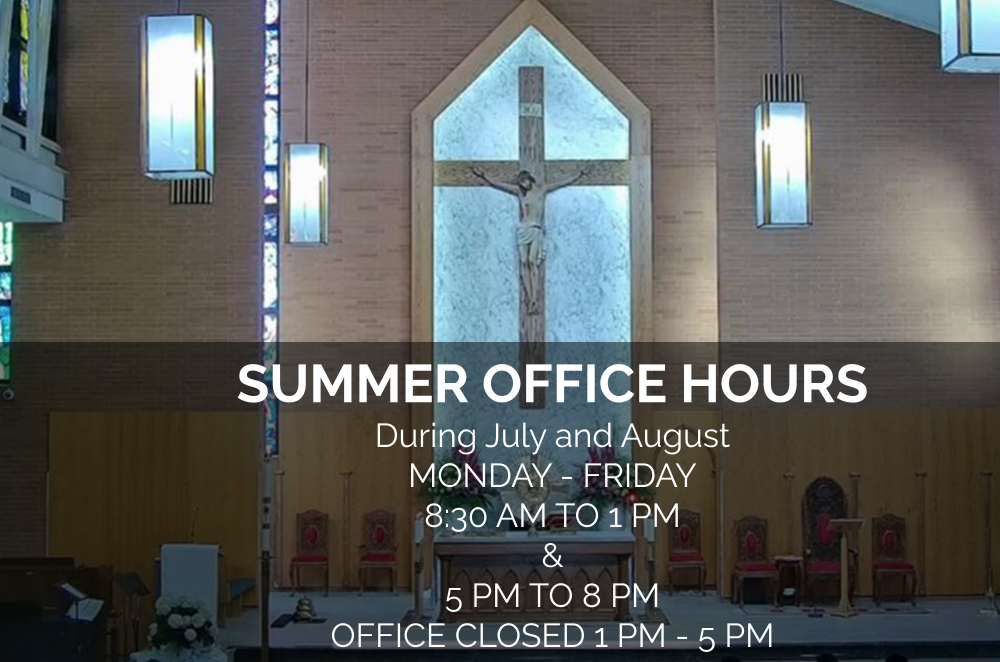 Dear brothers and sisters,
The long-awaited summer months are finally here!
We who live in this four-season climate always look forward to these bright and sunny days. It is the season of outdoor living and enjoying some gardening, fishing, camping, touring, grilling and socials. It's truly a time of rejuvenation and relaxation! In that spirit, the parish office hours will be modified to give some well-deserved rest for our office staff. Please note the summer office hours indicated below. I thank you for your understanding.
This summer, we are particularly excited and looking forward to having our Summer Mass Club students attend Masses throughout these two months. It will be great to see their enthusiasm and it is important to offer them our support. Our Altar server team is also preparing for an exciting summer camp and BBQ!
As much as it is an exciting time, it can be an anxious time as well. Some of our young people will be leaving home soon and heading to university. Moving into a university can be very exciting as it is a journey from the safety nets of the home to the unknown meadows of campus life! It can be an anxious time of preparation and networking for both parents and students. I pray for all our graduating students and their parents that this time of transition be smooth and safe.
May I suggest to our young people who are going to live in the campus to look for Catholic chaplaincies. This will be of great help and a means of guidance and support for each other. Although you are moving away from home and your parish, I want to assure you of my constant prayers and support along the way.
You have been given a great opportunity; the doors of knowledge and higher education are opened to you. Take this opportunity to walk through these open doors and achieve great things but always remember what the Lord has taught us:
You are called to be the salt and light of the world!
In Christ,
Fr. James Cherickal